Quick Facts
A deceptively steep climb up the centre of the Park to a most spectacular viewpoint. From Calgary to Cochrane, the Bow River Valley stretches for miles below you!
Trail Restrictions: None – pedestrians and cyclists permitted
Trail Composition: 0.9 km Paved; 0.5 Granular
Average Walking Time (one way – no stopping): 30 Minutes
Seasonality: Open year-round (note that ice may be present in fall through spring months)
Trail Profile: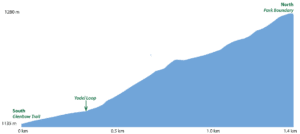 Highest Elevation: ~1277 m
Lowest Elevation: ~1135 m
Trail Details:
Scott Trail is the central north-south trail in the Park. It leads (eventually) to the top of the ridge overlooking the Park.
The pathway winds past one of the Park's oldest standing buildings. Built in about 1904, the little cottage that overlooks the valley was once home to Stephen Christopher Lay Moore and his sister, who established Hertford Ranch on the property. It was later home to Chester Rhoades de la Vergne, and then various members of the Scott family, who managed the ranch for decades.
Bring your hiking poles as they will help with the climb. Even better, make frequent stops as you ascend the hill to take in the ever-more-beautiful expanse of the Bow River valley below.